Learn About the

Greater Good Fund
Football is Family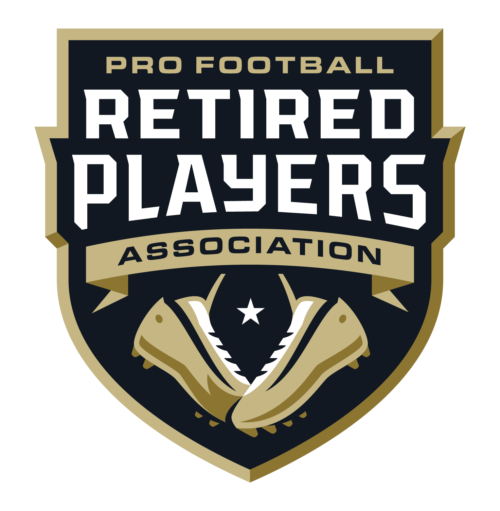 Pro Football Retired Players Association (PFRPA) is the first independent and court established retired NFL player organization, dedicated to supporting and promoting the health and welfare of retired NFL players. PFRPA oversees the Greater Good Fund, a 501(c)(3) charitable foundation, which is specifically designed to develop programs and benefits for retired players. These programs and benefits are vetted to amplify health, wellness, education programs and more for PFRPA members, impacting retired players in a meaningful manner.
The Greater Good Fund receives 25% of the proceeds from FGA group licensing deals and group sponsorship deals. Here are the types of programs and benefits PFRPA will evaluate.
Health & Wellness Programs
Financial Literacy Programs
Medical Research
Short & Long-term Housing
Medical Screenings & Evaluations
Career Transition Programs
We exist to solidify and preserve the legacy of retired NFL players. It is of great importance to honor and respect the greatness of our members and empower retired players. We will maximize economic and member benefits to drive the collectible influence of all retired players, with a hope of being able to enrich their lives after the NFL.
PFRPA Dental Plan
The PFRPA Dental Plan, which is administered by MetLife, is the first benefit available to retired NFL players through the Greater Good Fund. On June 1, major enhancements will go into effect for PFRPA members. Available options are below.

Option 1
Retired NFL Player: A player is covered under this plan if he retired from the NFL by July 2013. The calendar year maximum is $3,000.

Option 2
Retired NFL Player + Spouse: A retired NFL player can elect to share his coverage with his spouse. The calendar year maximum is $3,000. To include lawful spouse, members will need to fill out and sign the Affidavit for Spousal Eligibility located in the Quick Links section.
PFRPA Vision Plan
The PFRPA Vision Plan, established by the PFRPA Board of Directors, will be available to retired NFL players starting on January 1, 2019. The vision coverage will be administered by VSP Vision Care, the largest vision insurance company in the United States. Highlights of the vision coverage are provided below.
Vision Benefit Option: Choice of prescription glasses or an annual supply of contact lenses, every calendar year. Either option comes with $0 copay.
Eye exam coverage: $0 copay for in-network exam and contact lens exam, every calendar year.
Add-ons: Discounts available on additional exams; premium or custom progressive lenses; and frames over the coverage allowance.
Available only for retired NFL players (no dependent coverage is available).
If you're interested in receiving additional details, contact PFRPA at (703) 415-1500 or info@pfrpa.com.
Please look under Quick Links for more PFRPA Dental Plan information.
Thoughts From Retired NFL Players
"Thank you for the great work you are doing to help the lives of NFL players." – Buddy Curry, Atlanta Falcons (1980-87)
"I was a beneficiary of the Dental Plan this past year. Thank you!" – Joe Ehrmann, Baltimore Colts (1973-80); Detroit Lions (1981-82)
"Unbelievable! I didn't think it was real when I received my card in the mail from PFRPA. I've had full mouth x-rays, a cleaning, and two fillings!" – Brad Leggett, New Orleans Saints (1990-91, 93); Detroit Lions (1992)
"Thank you, Pro Football Retired Players Association, for the Dental Plan. Used it today and worked perfectly. It saved me $1,000! Very much appreciated!" – Bucky Richardson, Houston Oilers (1992-94); Dallas Cowboys (1995); K.C. Chiefs (1996)