"The Football Greats Alliance provides opportunities for retired players to band together for a wide variety of partnerships. These deals will have direct financial benefits to the players involved, and more importantly, will provide revenue for the Greater Good Fund, which will benefit the health and welfare of retired players."
-Jim Brown, Chairman of the Board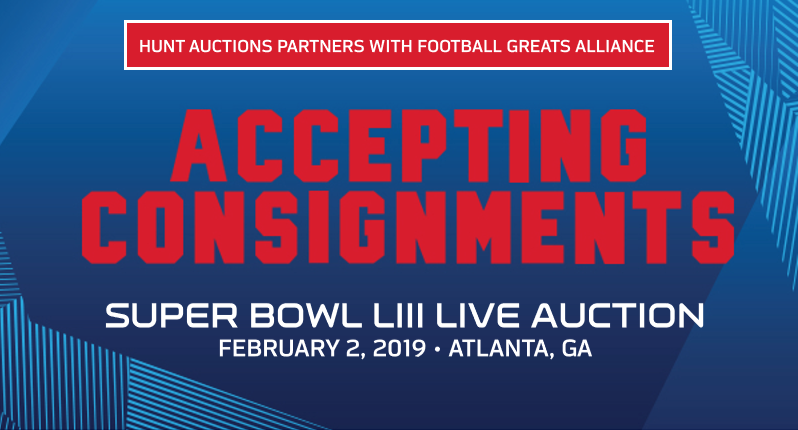 FGA: Memorabilia & Auction Initiative
FGA has been hard at work to develop numerous programs and opportunities for our members ahead of the NFL's 100th Anniversary next season. Our goal is to drive forward value while commemorating the greats who built the game, and we are thrilled to announce our exclusive memorabilia partnership with Hunt Auctions. Through this exciting new venture, the FGA has joined with an elite auction firm, having over 25+ Years of experience in the field of Football Memorabilia auction venues. Hunt is widely regarded as the leading firm in the nation, with respect to representation of current and former players, and their families in sale of their memorabilia.
Look for unique and iconic memorabilia from former NFL Greats to be available at Auctions for SB53, along with numerous silent and live auctions throughout 2019.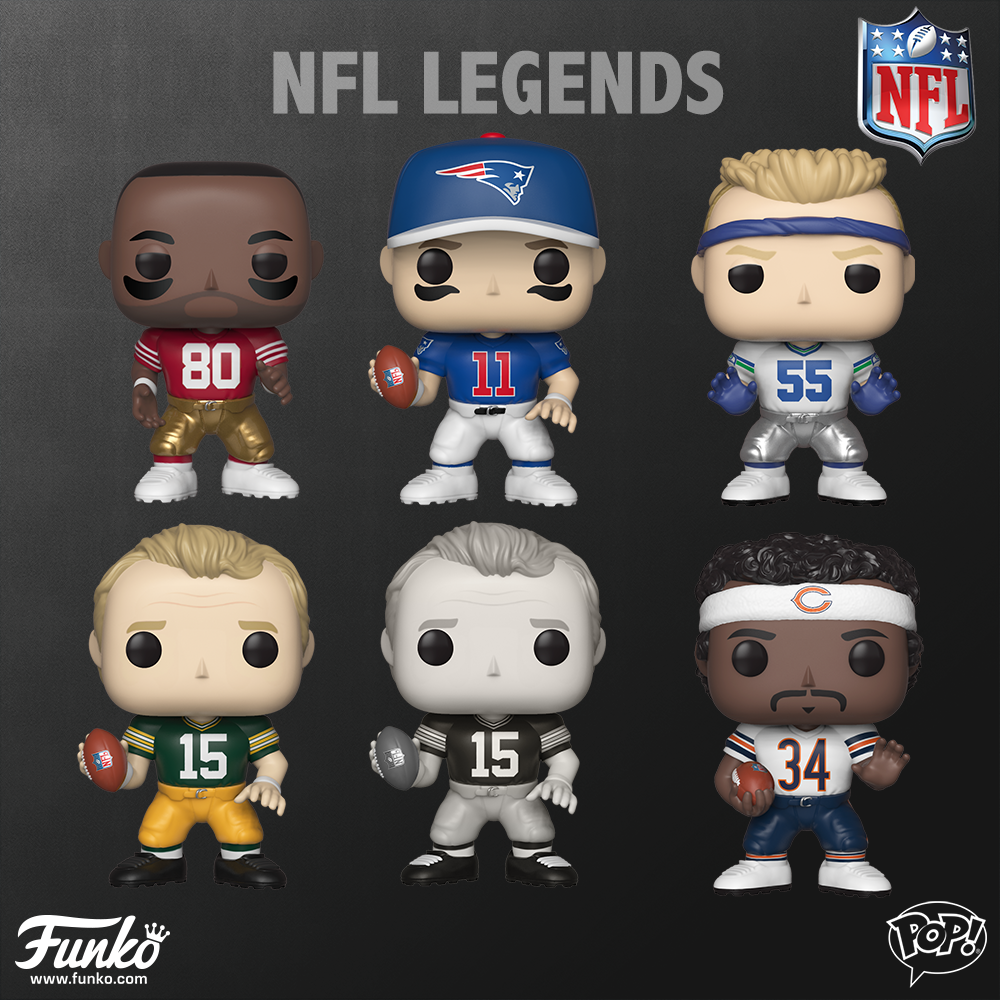 FGA Expands Toys & Collectibles Space
Through best-in-class partnerships with Funko & Highland Mint, the FGA has brought stylized bobbleheads, commemorative coins, collectibles and more to life ahead of the 2018 Kick-Off.
The program features iconic players such as Jerry Rice, Troy Aikman, Terry Bradshaw, Brett Favre, Jerome Bettis, Coach Tom Landry, Dan Marino, Roger Staubach, Lawrence Taylor and many more.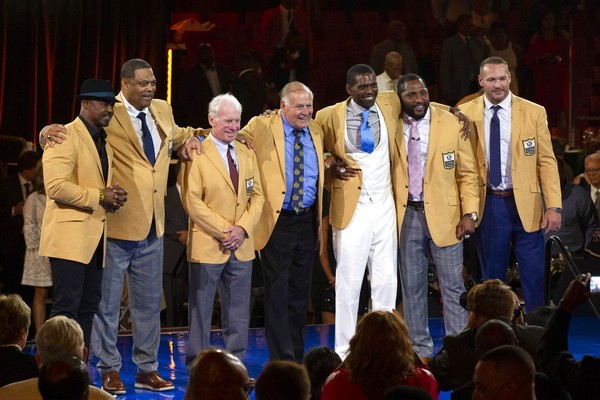 FGA Members Highlight 2018 HOF Class
The Football Greats Alliance is honored to welcome six members into the Pro Football Hall of Fame. Their enshrinement highlights the legendary careers of marquee players Ray Lewis, Randy Moss, Terrell Owens, Brian Dawkins, Brian Urlacher and Jerry Kramer!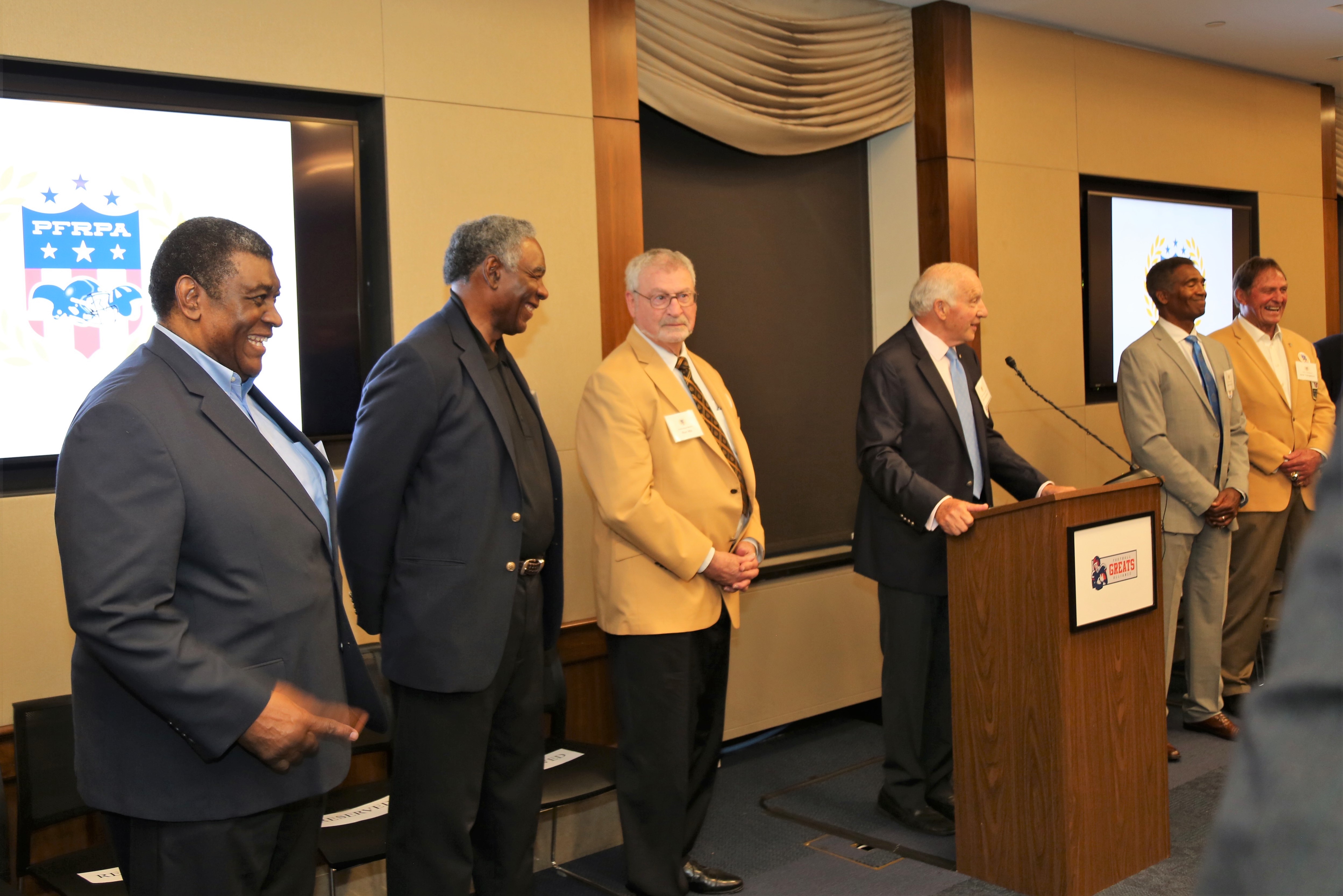 PFRPA Hosts Wounded Warriors Congressional Reception
PFRPA recently held a reception to honor wounded warriors at the Rayburn House on Capitol Hill in Washington, DC. Several of these veterans suffered some form of traumatic brain injury (TBI), which is a similar issue many retired NFL players face. PFRPA set out to shed light on this serious issue and highlight innovative ways to heal these injuries. We invited congressional members from both the House and Senate. They had a chance to speak with medical professionals on key topics, including TBI and other important matters concerning wounded warriors and retired NFL players.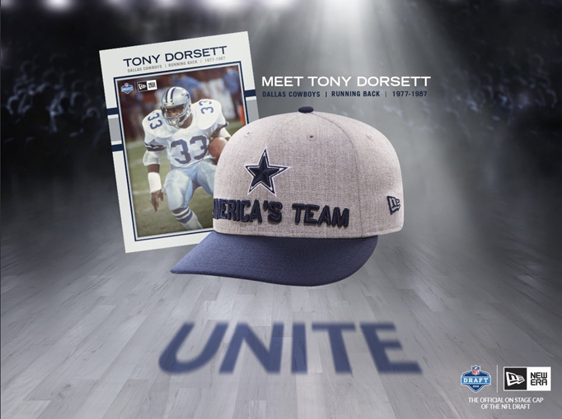 FGA x New Era: Tony Dorsett @ Dallas Draft
FGA secured Cowboys legend, Tony Dorsett, to make an appearance for New Era Cap at AT&T Stadium ahead of the 2018 NFL Draft. This activation was one of the most coveted of the weekend, with Tony signing New Era Caps and taking pics with die-hard Cowboy Fans!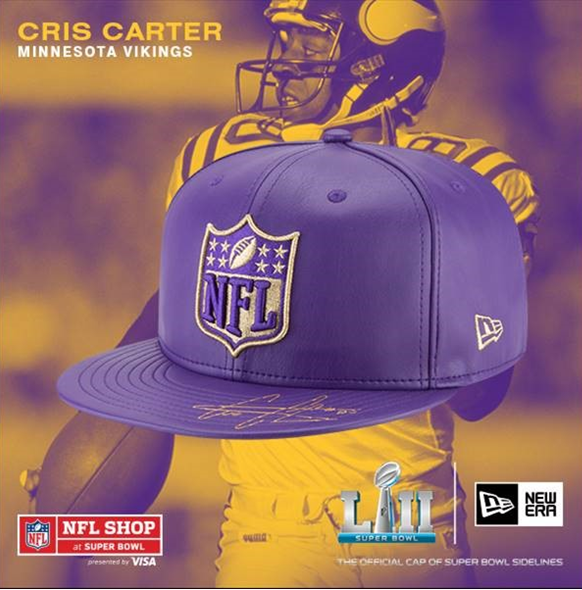 New Era x FGA Exclusive SB52 Collaboration
The Football Greats Alliance developed and procured an exclusive SB52 drop, featuring Cris Carter and Daunte Culpepper. The two legendary Vikings designed their caps to commemorate their iconic careers with the Minnesota Vikings, and to celebrate the host city. The cap features with Melton wool and faux leather visor foil printed details, along with the players signature and Vikings accolades on the satin lining interior. The cap retailed for $52 and was available exclusively at NFL Shop and neweracap.com.  The players supported the drop with social media, content and an appearance onsite at the New Era Retail space at Super Bowl Experience for fan signings and photos.
Autographs Get Digital Upgrade!
FGA and Topps have developed a live signature platform, called Topps NFL Huddle, where athletes use a tablet and stylus to digitally sign their autograph on digital trading cards.
Some of the players secured included Pro Football HOFers Terrell Davis, Eric Dickerson, Warren Moon, Mike Singletary, Roger Staubach, Jason Taylor, Lawrence Taylor and more.
There's Now a One-Stop Shop for Brands That Want to Work With Retired NFL Players
IMG today unveils The Football Greats Alliance, which offers brands and advertisers a one-stop shop for marketing rights, approvals, contracting and financing for a group that includes more than 160 Hall of Famers, 50 Heisman winners, 225 broadcasters and 35 NFL MVPs.
Two years ago, IMG won the rights to create an agency dedicated to handling the marketing and licensing rights for some 22,000 retired players. The agency is the result of a lawsuit brought by former players against NFL Films for using their images without permission. The group was awarded $50 million, and the Pro Football Retired Players Association was created.
These days, there is a ton of value to be had in being a former NFL player, especially with the league's 100th anniversary coming during the 2019 season.
Read Full Article